Starfox | Home | Campaigns | Al-Qadim

---
The Arabian Nights RPG Webring Homepage
Please enter Tails of the Arabian Knights.
---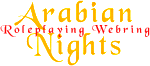 Es salam alekum, weary traveler, and welcome to this humble crossroads. Here, you will find but little to sate your appetite for the fantastic and exotic, but you will find new paths to thread to places that will hopefully offer you more.
This webring is for all creative work inspired by the Arabian Nights stories, in whatever translation or game system. It also includes other types of arabian or middle-eastern roleplaying. This includes, but is not limited to, the D&D Al-Qadim game world by Wizards of the Coast.
This webring is very minimalist. I don't really feel lot's of options and graphics belong on a webring. To use this webring, go to the List of Sites and choose a site to visit.
This webring is related to the Al-Qadim mailing list. This is a list where Al Qadim and all related issues are discussed freely and frequently. You can go directly to the List Page. You can also join the list by sending a mail to Listserv@Oracle.Wizards.Com with subscribe Al-Qadim in the body of the message.
If any of this seems strange or you have any questions, write me.
The TSR logo, Advanced Dungeons & Dragons, AD&D, Dungeons & Dragons, D&D, Forgotten Realms, Al-Qadim, Dragon, Dungeon, Amazing, Polyhedron, and Monstrous Manual are trademarks of TSR, Inc. TSR, Inc. is a subsidiary of Wizards of the Coast, Inc. Used here without permission and does not constitute a challenge to the ownership of this or other properties of Wizards of the Coast. Any use of Copyrighted or Trademarked material on this site is not meant as a challenge to those rights. This is by no means an official Wizards of the Coast site, nor does it profess to be. For more info, see the Copyright page.